About Research for Everyone
---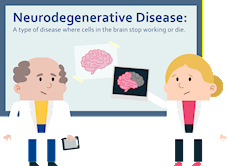 About this project 

We believe everyone has the right to useful, meaningful health information. The aim of this pilot project is to make complex health research easier to understand for as many people as possible. 
This project is led by people with learning disabilities and researchers at the University of Glasgow. Our aim is that people with diverse communications needs and the wider public have access to information that may be of interest or importance to them (e.g. new science or health information about brain disease or cancer).
What we are doing
We have translated two complex studies about health – one on football and neurodegenerative disease, and one on cancer and mental health – and co-created three outputs from each: a short animation, an infographic and a podcast.
The diverse collaborator team of self-advocates, researchers from the University of Glasgow, Down's Syndrome Scotland, PAMIS, People First Scotland and award-winning animation company Media Co-op have developed 2 x 2-minute animations, 2 x infographics and 2 x 20 min podcasts from the two health studies. Every step of the process has been shaped and guided by the self-advocate co-creators, from scripts and storyboards to animation styles, podcast hosting and final edits. We have also been delighted to work with STV's Laura Boyd and Sky Sports News presenter Hayley McQueen to narrate the two animations. 

The three different formats were chosen to support people with different communications needs to engage with the research. We hope that by offering eye-catching visuals, storytelling and an audio format, we can help more people to understand research that is of interest or relevance to them.  
The animations, infographics and podcasts will be shared widely across social media and at various locations across Scotland and beyond to connect with as many people as possible.
How you can be a part of it:
Help us to share the finished versions with your networks, colleagues, friends and family from October 2023 onwards - follow us on Twitter,  Facebook, and Instagram to keep updated about this work. Keep an eye on #ResearchforEveryone23 
If you have any questions about this work, please contact Fiona Barlow via fiona.barlow@glasgow.ac.uk 
This project has been funded by the University of Glasgow Knowledge Exchange Fund.
---