Festival of Social Science 2016
---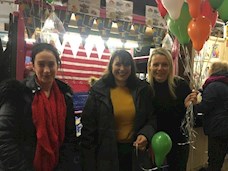 The Scottish Learning Disabilities Observatory 'roll up for the social science market' at The Barras in Glasgow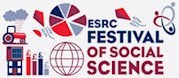 On the 12th of November 2016, the Scottish Learning Disabilities Observatory participated in a unique public engagement event at The Barras, a major indoor and street market in Glasgow.
The Barras event was attended by a range of researchers from Glasgow University who were, for one day, 'trading' from market stalls to highlight their research to the public in innovative ways. 
The challenge for the Scottish Learning Disabilities Observatory team, all inexperienced stall holders, was to engage with a different audience by creating innovative ways to encourage people to come and talk about the work of the Observatory. Our task was to raise awareness among the public about health inequalities experienced by people with learning disabilities and to start conversations about what participants think about these issues. 
Our activities were fun, but had a serious message. We wanted people to think about the inequalities that people with learning disabilities in Glasgow experience. 
We decided on the theme of a fun fair and had activities like 'hook the duck' where participants were asked to catch a plastic duck from water with a fishing rod – with each duck there was a question (we had prizes too!). Lots of people took the challenge and we found that our questions made people think. And once we had people 'hooked' this led to some really constructive conversations about the issues that the Scottish Learning Disabilities Observatory is trying to tackle through research. 
This was a really positive experience for the Scottish Learning Disabilities Observatory team. The activities developed led to a great deal of interest from the public, including conversations about what participants knew about learning disabilities, perceptions of learning disabilities and some of the challenges people with learning disabilities experience in relation to their health and other parts of their lives. 
At the Scottish Learning Disabilities Observatory, we are always looking for innovative ways to engage with the public about our research and are excited about taking part in future events of this kind to build on the success of this event. 
The Barras event was part of the ESRC 'Festival of Social Science', a week-long celebration (5th-12th November) of the social sciences, with over 270 free topical events that took place across the UK. This included debates, conferences, workshops, seminars, exhibitions and film screenings on subjects as diverse as politics, pirates and Pokémon. Activities were aimed at a wide range of audiences from schoolchildren to academics, third sector to policymakers.
---